Norman "Swede" Carlson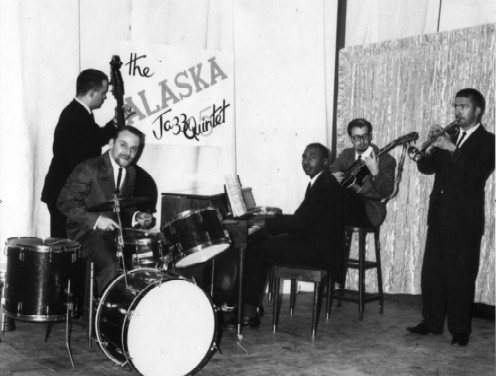 The Alaska Jazz Quintet, circa 1962
The Greatest Horn Player You've Never Heard
I grew up listening to my father playing his trumpet. I never thought much about it at the time; after all, didn't everyone have a world class horn player in the house? But now that my father no longer plays, I think of it often.
My father grew up in the small town of Index, Washington. He learned trumpet at an early age. His trumpet teacher, Don Anderson, was a Hollywood sidekick of Rafael Mendez, the great classical trumpet player and teacher from Mexico. My father tells how Mr. Anderson took him to Rafael Mendez concerts in Washington, and introduced my father to him backstage.
As a very young man, my father played in a dance band. The pianist in the band was William Bolcom, who later became a celebrated composer of classical music. While with the band my father began having mixed feelings about performing. "If we played fast songs fights would break out," he would say, "but if we played slow songs couples ended up in the back seats of cars." Continuing to perform presented a moral problem for him. Since music had the ability to affect behavior, my dad felt complicit in whatever transpired during or after he played. My father's friendship with Bill Bolcom continued at the University of Washington; while Bill Bolcom continued his musical studies, my father's moral qualms led him towards math and science.
Early on my father was taught the importance of practicing proper technique. He would practice for an hour or two a day, after a full day's work as a systems analyst, just to keep his skills up. He had developed a beautiful trumpet tone: full, round & rich. He told me once that most trumpeters ruined themselves trying to play high like Maynard Ferguson, without spending an equivalent amount of time in the trumpet's lower register. These horn players developed a thin, brittle tone. Attempting to copy Maynard ruined a generation of trumpet players.
My dad learned his emphasis on proper technique from Don Anderson, who in turn had learned it from Rafael Mendez. Just like Mendez, my father was willing to pass it along. I remember my dad working with his friend's son. He taught him proper technique and gave him a set of technical exercises; the young man practiced over the summer and ended up first chair in the band.
After my father became a born again Christian, he tried to use his gift as a ministry. He developed a number of different programs designed to present the Gospel message. He played anyplace he could---church services, summer camps. retreats, even rescue missions. What my father didn't want was to be simply the entertainment. Music was a means to an end, and the end was presenting the gospel. What he hated was to practice for many hours only to present a three minute "musical number." My father was a professional, and he considered it both a personal insult and an offense against his gift to be simply a musical interlude between the parts of the service.
While he was attending Western Conservative Baptist Seminary, my father made at least three albums. (My sister told me of one other me made in Colorado Springs during the late 70's or early 80's, but I don't remember that one.) For these albums he was accompanied by Rob Pearson on piano, and often played behind Rob Pearson and the Sandoval Trio; together they would tour the local area churches, presenting the gospel, and raising the profile of the seminary. In between studying and work, how they found the time to do all this is beyond my comprehension.
My father had copies of these records for many years, and I used to love listening to them. (My sister still has copies of the albums, and her 15 year old son likes listening to his grandfather play.) Unfortunately, the albums were not professionally recorded, engineered, or mixed. The resulting low fidelity recordings don't do a good job of capturing Rob Pearson's piano; it is too far back in the mix, and the poor acoustics cause echoes which interfere with the sound. Yet the recordings do a good job of documenting my father's talent. (See below for mp3 samples.)
My father was, (and perhaps still is,) a difficult man. He is well-liked and well-regarded by those who know him well, but he doesn't make it easy. He is rarely the life of the party, and never a popular person. I remember one New Year's Eve watch night service at our church. We were having a church talent show. At one point in the evening a kindly, friendly gentleman played his flugelhorn for us. To say it was an amateur performance is being generous. Later on my father played. Instead of being bowled over, people felt his performance was an affront to the older gentleman. Nobody wants Pavarotti at a campfire sing-along, my father used to say.
My father played like the angel Gabriel himself, a fact that once caused quite a disturbance. It was an Easter service, and the choir was singing about the trump of God. My father was positioned out of sight behind the choir loft. When he began to play, an elderly Christian man stood up, raised his hands to the heavens, and shouted, "I'm ready, Lord." Only after the Lord didn't take him home, did he realize it was part of the performance. This disturbed my father, and he decided to never again play out of sight of the audience.
This sort of thing went on for about twenty years, when suddenly my father decided he'd had enough. His trumpet playing ministry wasn't getting any traction, and was actually interfering with his ministry and with the rest of his life. He put down his trumpet and never played again. For many years I resented that decision. I'm still not sure I fully understand it, but I do respect it. To give up something you love for something you value more highly is rare these days, and is an honorable thing. Still, I miss it.
For Christmas 2003, my parents sent me a CD of "That's For Me," one of my father's 1973 recordings. The vinyl album had been transferred to computer, then burned onto a CD-R. The CD tracks were full of the clicks and pops of the original, damaged vinyl. I copied my father's tracks to my hard drive, then cleaned them up with Steinberg's Clean 2.0. (They still have some noise, but are much better.) I converted them to mp3 with the MP3 WAV Converter 2.68 from American Shareware, then updated the ID3 tags with the ID3 Editor from Digitek Design. Here they are. Enjoy. (You will have better luck if you right click these and save them to your hard drive, then play them from there.)
It might be useful to know that in performance, my father would sing these songs. The set list was designed to tell a story. It's unfortunate that none of these performances were ever captured, but if you listen to the horn you can sometimes hear where my father would sing and where he would play. Or perhaps it is just my imagination, having heard it so many times.
That's For Me (Demonstrates my father's rich tone, both in the low and high register. Note the smooth, legato phrasing.)
Love Of God
My Song (The levels were set too high, and the sound is somewhat distorted.)
Harbored In Jesus
I Am Not Worthy
Last edited on February 17, 2010